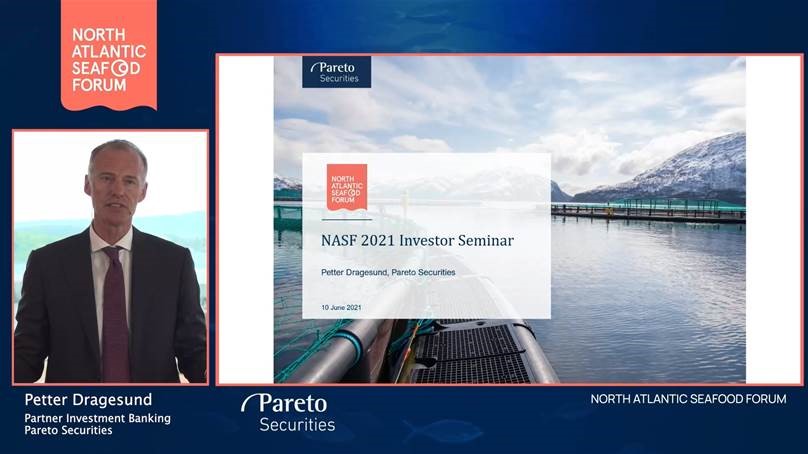 The main topics among the policy makers and in the key note sessions was how to secure a sustainable future for the seafood industry. To be able to increase food production from the ocean without compromising with the environment is seen as a key factor to meet growing food demand in the future. Aquaculture is definitely going to be the main contributor to this growth, but seafood from sustainable fisheries will also be important.

The conference also had a session dedicated to aquaculture and salmon, where the key focus this year was regarding future growth in salmon production. The industry expects this to come from several initiatives, with offshore farming and land based farming as some of the promising technologies that can give significant growth in production volumes in some years' time. Regarding salmon demand, industry experts highlight the tremendous shift from HoReCa to retail we have seen during the pandemic and expect demand to be even stronger when HoReCa returns as retail demand is expected to stay above pre-pandemic levels.

At the Pareto Seafood Investor Seminar most of the listed seafood company in both Europe and South-America were present. The large salmon producers such as Mowi, Lerøy, Bakkafrost, Grieg Seafood and Norway Royal Salmon focused on how to achieve sustainable growth in salmon production, with all companies highlighting investments in larger smolt as an opportunity for growth. The three Icelandic salmon farmers, Icelandic Salmon, Arctic Fish and Ice Fish farm highlighted the growth opportunity that still exist for traditional salmon farming in Iceland. While the three Chilean farmers presenting, Salmones Camanchaca, Multiexport and Blumar all have struggled with weak prices in 2020, the companies are now expecting a stronger year with prices back to all time high levels due to strong demand from US.

We had a record number of land based salmon farmers presenting, including Atlantic Sapphire, Salmon Evolution, Andfjord, Proximar, Nordic Aqua Partners, Nordic Aquafarms, West Coast Salmon and Columbi Salmon. Most of the companies are still in construction/pre-construction phase, and several companies are still looking to raise more capital. Atlantic Sapphire and Nordic Aquafarms are however harvesting fish regularly. Within the aquaculture suppliers space we had presentations from Benchmark, AKVA Group, Frøy, Nekkar and Stingray, with continued growth in aquaculture production but also biological challenges in salmon production as main drivers for further growth for these companies.

Also within farming of "new" species we had a record amount of companies indicating that investor appetite for other species than salmon is coming back. Clean Seas Seafood and Kingfish are focusing on Yellowtail Kingfish, Norcod is focusing on cod, Nordic Halibut is farming Atlantic Halibut and Stolt Sea Farm focus on both turbot and sole. Last but not least we also had presentations from several wild catch companies, with Austevoll Seafood and Exalmar involved in pelagic fishers with good quotas in Peru setting the stage for a strong 2021e and Aker Biomarine being the world leading krill companies are expecting stronger results due to more efficient fisheries with new vessels and see continued strong demand for its krill products.
To access the presentations, please use this link.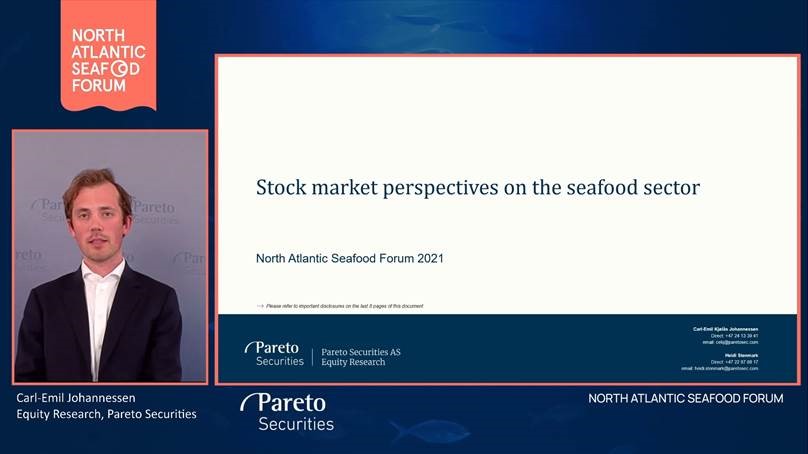 Our website uses cookies for statistical purposes. By continuing to use our website, you accept the use of cookies. More information.
OK