M&A, or mergers and acquisition, can be a highly attractive and efficient way to grow your business, expand your product offering, realize synergies, and eliminate competition according to Investment Banking partner, Bjørnar Skjold Granerød in Pareto Securities. M&A gives opportunities that is usually much harder to achieve through organic growth. The experienced SaaS investor Erik Fjellvær Hagen adds to the reasons for why technology companies would want to engage in M&A:
1) To build a new position, whether it's in a new market or a new vertical market; 2) to consolidate your position, either in a geographical or vertical market; 3) to add functionality that could then be sold to existing customers; and 4) if part of your platform is in "technology debt", M&A can give a new platform and get rid of the debt.
The game-based learning platform Kahoot! has had an impressive growth the last years with M&As as an important driver. Since 2019 the company has made seven acquisitions and earlier this year, Kahoot! acquired the American ed-tech company Clever for around 435 million dollars, their largest acquisition to date. Hanoa and the Kahoot team use M&A both as bolt-on development for capacity, experience, and customer base, as well as doing larger acquisitions extending the platform even further. Hanoa has made a few take-aways from the processes:
Never treat any acquisition as an equal to a previous one. Treat them as the individual opportunities they represent. Also, the opportunities that arise by bringing in a team that knows exactly what they are doing, are very welcome and can accelerate a specific area.
Listen to the full panel discussion here:
In the vast SaaS landscape, executives must know what to look for when considering buying a company. Strategy, KPIs and the "people fit" is on top of the Nordic software investor Viking Venture's M&A checklist. CEO Göran Lindö and the team at EcoOnline has done seven acquisitions in the last 18 months. For a SaaS company looking to do M&A, being an attractive acquirer can make all the difference. For that, Lindö stresses the importance of a good strategy.
To begin with, I think it's important that you have a clear strategy and rationale for why you are contemplating the acquisition. Make sure that the target company feels welcomed and that they will onboard a combined growth journey. We work a lot with culture, so be sure to include that part. Finally, it is a sales process. You must treat it like a sales process.
Hurry slowly with integration
Buying a company only gets you halfway. The acquired company must become a part of the new organization and integrated with the operations in a meaningful way. Hurry slowly, is Eilert Hanoas advice. He explains that you are acquiring a company because there is something there working well already. A high-level way to think about integration is to make sure that you keep and accelerate the positive sides, and then share the administative cost and everything that does not add value to the costumer.
Every M&A case is different and the TechSaaS panel agreed that aligning on synergies is important early on. One of the key questions to ask is how you can extract instant value. Whether it is reducing costs or cutting overlapping projects in the two organizations, transparency and clear communication is key in creating a welcoming atmosphere in both companies.
In hurrying slowly, there is also an aspect of timing the acquisitions. Sometimes the buy side and integration side can be separated for best effect.
We have had situations where we see a very interesting market to buy companies – but that market never lasts. So, when there is an opportunity to buy companies at a good price, be willing to buy more companies and put them in a holding structure. Then you can integrate them one by one, instead of saying that you do not have the capacity to integrate. That way you do not let good M&A opportunities fly past you, said Fjellvær Hagen.
Increasing activity in the Nordic M&A market
According to Mergermarket, more than 260 M&A transactions have been announced so far this year with a total value exceeding EUR 7.5bn. Skjold Granerød in Pareto Securities sees that software companies appear increasingly popular among financial and strategic investors, with high growth rates and scalability, favorable economics and numerous prospective targets promoting the overall attractiveness of the industry.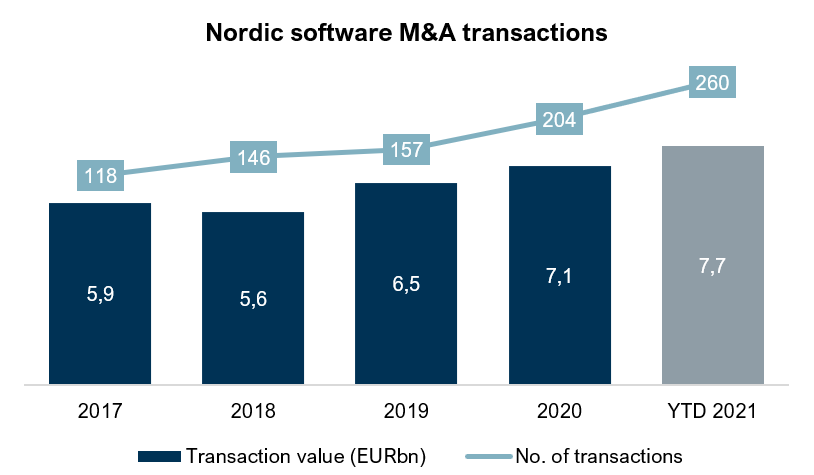 The high M&A activity is fueled by Private Equity funds' record-high available buyout capital as well as listed software companies' strong share price performance allowing them to finance accretive acquisitions in the capital markets. Hedge funds' rapidly increasing activity in the venture capital space has recently increased the competition for high-growth technology business and the search for the next unicorn.
With continued low interest rates, large available capital and favorable capital markets, the M&A activity is expected to continue breaking records entering 2022, says Skjold Granerød.
Our website uses cookies for statistical purposes. By continuing to use our website, you accept the use of cookies. More information.
OK